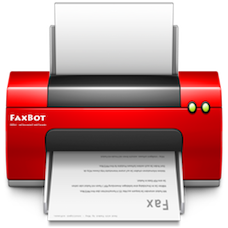 Faxbot
Yes, the limitation of AVM is repealed with Faxbot.
Choose Print in your application and select in the PDF pop-up menu the item Faxbot. Your document will be passed to Faxbot.
Open the settings of Faxbot and select System. There you can install the system-wide menu item.
Please choose in the settings a "Fax Line" in the tab "Fax".

If you cannot select a fax line, you must open in your FRITZ!Box "Telephony" > "Telephony Devices" "Set up new device".
In the wizard, select "Integrated into the FRITZ!Box" > "Fax function".
Do not select the option "Automatic fax detection", but at least a separate phone number.
The fax function requires the assignment of a dedicated phone number.
After the setup open the Faxbot settings again to update the "Fax lines" and choose a fax line.
Press the button "Type" in the toolbar at the top right. Now select image and text.
AVM supports the fax feature in the FRITZ!Box from FRITZ!OS 06.00.