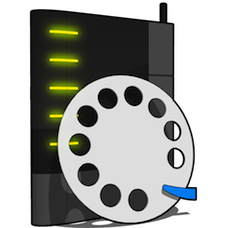 Dial!List
Here you can see a short description of some functions in Dial!List.
Dial!List is localized in English and German. Dial!List is immediately after the start inconspicuously, but always present, in the menu bar of Mac OS X. Thus they can access fast all functions:
retrieve the calling list of a remote FRITZ!Box
show incoming calls with a internal callmonitor or with Growl
activate / deactive FRITZ!Box-WiFi
search, sort, filter calling lists
detailed information of calls (date, name, phone number, contact picture, cable, call duration, extension)
retrieve voicemails and fax messages
script actions when a call begin/end (pause/start iTunes, change iChat state, speak caller name, system volume on/off, ...)
create own script actions (many opportunities: export call to Filemaker, own Database, control applications, ...)
create, print, export call memos
dial with predefined Call-by-Call prefixes
extensive configuration options
Menubar integration and/or Dock
Integrated Address Book - Search
Import of FRITZ!Box CSV-Callinglists
Print callinglist
Call Back-Button for calls in absentia
Selection of the outgoing call number/line
Plug-Ins for Address Book, Filemaker, Launchbar, Quicksilver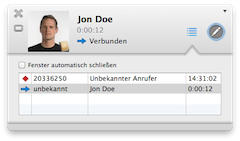 Call monitor
The call monitor shows all in and outgoing calls with information details, like detailed telephone number, caller name, contact picture and the called line.
Callings in absentness are displayed with the time-of-day and you have the possibility call directly back with a button. Furthermore you can write a memo.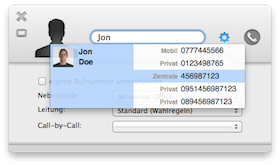 Call dialog
In the call dialog you can search for contacts in the Address Book, type call numbers by keyboard, and choose some options, e.g. the outgoing line, call number.
The call dialog is also displayed for example, if the call comes from the Address Book, Daylite or the Widget.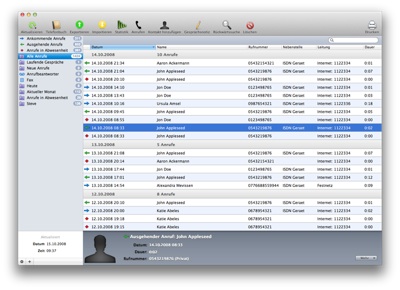 Callinglist
The calling list will be autmatically reloaded after a call finished. Diese können Sie nach Kategorien gruppiert ansehen und durchsuchen. Wenn sich der Kontakt im Adressbuch befindet, wird der Name dazu angezeigt. You can export this list, start calls from it or add new contacts to the Address Book.
Sort the callinglist, search it or create your own intelligent callinglist.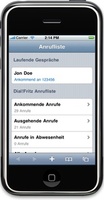 iPhone / iPod Touch
You can export the callinglist optimized for the iPhone / iPod Touch after every call.
So you have the option to access your current callinglist using Safari on the go.
Furthermore you can see current calls.
(The iPhone / iPod Touch callinglist is limited to the last 50 calls.)
For a mobile access you have to put the exported website with FTP on e.g. your own webspace or access it with the integrated webserver in Mac OS X.
If you prefer a native iOS App instead, try Dial!List ME for iPhone, iPad, iPod Touch.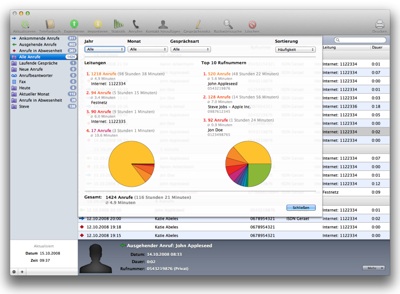 Caller Statistic
The Caller Statistics gives you an Overview about all saved calls.
See at first sight which phone number has called the most times, with which contact you called the longest time.
You have the option to sort and fit the Statistics with some filter criterias.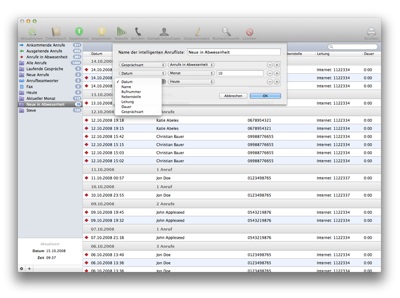 Intelligent Callinglist
The intelligent callinglist gives you the option to create your own callinglists.
For this Dial!List offers you many filter criterias.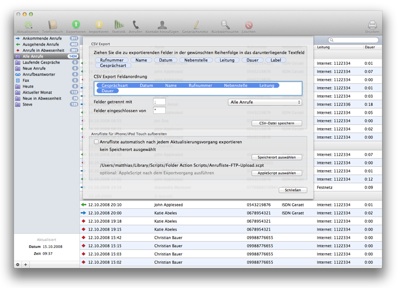 Export Calls
With Dial!List you can export the callinglist as CSV-File for your needs. So you have the option to import the callinglist in an other application, process the data in an other way or only save it.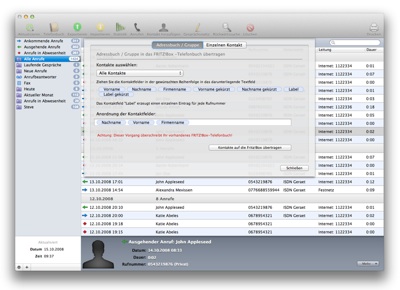 Transfer contacts
With Dial!List you can easily transfer your Address Book contacts to the FRITZ!Box-Phonebook.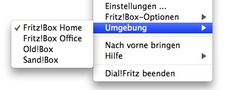 Locations
Several environments enable a fast change of your personal settings.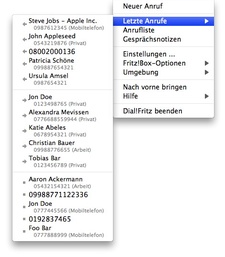 Quick-Dial
Recent Calls can be easily dialed by clicking the on it in the menu "Recent Calls". This menu shows you the last outgoing, incoming calls and calls in absentia.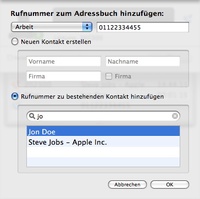 New Contact
Callers, who did not saved yet in your Address Book, can be added from the call monitor or from the calling list to the Address Book.
Of course, you can add a phone number to a existing contact.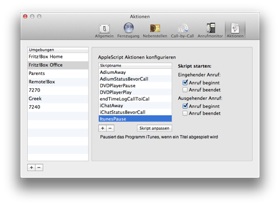 Applescript-Actions
Dial!List offers the possibility of executing AppleScripts for beginning or ending a call. In addition some AppleScript actions are already provided. For this you get some useful AppleScript-Actions with Dial!List.
Own AppleScript actions can be created and added.

Mitgeliefert werden unter anderem folgende Aktionen:
System Volume on / off
Set iChat- / Adium-State
Send Mail with caller data
pause / continue DVD Player / iTunes / VLC
Speak caller name
For creating own Scripts you find a manual
there
.

Growl
As alternative to the calling monitor in Dial!List you can display in and outgoing callings also with
Growl
.
This needs to install Growl.